Fe complexes, bioinspired catalysts for oxidation
Frédéric Banse (Prof), Jean-Noël Rebilly (Researcher), Katell Sénéchal-David (Associate Prof.)
Postdoc : Dr. Flora Lefebvre
PhD student : Amanda Robinson
---
In chemical synthesis the conversion of small organic molecules into oxidized products with higher value added is most often carried out under stoichiometric and harsh conditions (high T and P, strong oxidizing agents generating harmful side products). In this context developping alternative solutions using molecular oxygen (cheap and environmentally innocuous) is highly desirable. However, due to its fundamental triplet (S=1) state the reaction of O2 with diamagnetic species is kinetically forbidden. Hence, its activation is required in order to overcome this limitation.
Interestingly, some metalloenzymes (monooxygenases, dioxygenases, hydroxylases) use O2 to catalyze the chemo-and regioselective oxidation of small organic substrates under mild conditions via the so-called "reductive activation of dioxygen". This corresponds to a controlled partial reduction of O2 at their active site which contains abundant bioavailable metal center(s) (Fe, Mn, Cu…). Therefore, reproducing the reactivity of these natural catalysts by means of simpler synthetic systems is relevant both from fundamental (determination of reaction mechanisms) and practical point of views (valorization of abundant feedstock).
Implementing cheap non heme FeII complexes and chemical oxidants, it is possible to generate Fe-peroxo, high valent Fe-oxo, that are able to oxidize small organic molecules. These reaction intermediates are reminiscent to those identified in the catalytic cycle of enzymes. Our main objectives are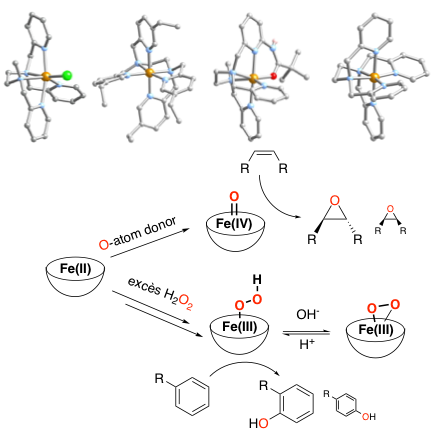 1/ understanding the intrinsic reactivity of these species (Isolation and study of reaction intermediates);
2/ mimicking the reactivity of natural enzymes through the activation of small renewable molecules (O2, H2O) instead of chemical oxidants (Activation of small molecules);
3/ improving the reactivity of our synthetic catalysts with the help of supramolecular second coordination sphere interactions (Insertion of the complexes into supramolecular systems and second coordination sphere effects).
PhD theses
Amanda Robinson — New Fe complexes with a non-innocent second coordination sphrere for bio-inspired oxidation catalysis
PhD advisor : Frédéric Banse ; Co-advisor : Jean-Noël Rebilly (Started in october 2018)
---
Antoine Bohn — Electrochemical approach of the reductive activation of O2 by iron based molecular complexes (2018)
PhD advisor : Frédéric Banse ; Co-advisor : Katell Sénéchal-David
---
Charlotte Buron — Development of novel oxidation bioinspired catalysts : non heme iron(II) complexes grafted on golf electrode or β-lactoglobuline (2015)
PhD advisor : Frédéric Banse ; Co-advisor : Katell Sénéchal-David
---
Nathalie Segaud — Study of dioxygen activation by an iron(II) complex and new heterodinuclear complexes : Contributions for the development of bioinsipred oxidation catalysts (2013)
PhD advisor : Frédéric Banse ; Co-advisor : Katell Sénéchal-David
Last publications (2016 - Today)
---
Last update on April 26th 2021